Our Goal
Within any population we teach, young leaders are identified and supported with professional training to become positive models of change within their communities. Through the conflict resolution and peace-building techniques of Yoga and the Arts, the escalating cycle of violence in conflict and post-conflict settings can be broken and recovery and rehabilitation can begin.
Based on the pilot project in Cambodia, AZAHAR Foundation's objective is to create satellite projects in several countries, with the aim of implementing international peace camps and conferences in professional yoga, dance, and music training, where young leaders are given opportunities to compare cultural experiences and to collaborate creatively with young people from around the world. The international conferences will culminate in artistic performances and touring projects that will serve to give young people a voice to raise awareness of the richness of cultural diversity and of humanitarian issues around the globe.
Outreach & Exposure: Free Food & Yoga/ Arts for children and young adults
This program serves to expose young people to different disciplines, so they can awaken hidden talents and be shown pathways towards vocational development in these fields. Since most young people from underserved communities will only be motivated to join programs when free food is involved, providing them with both is crucial. The meals are vegan, as this is the most compassionate diet, a yogic diet and the most effective diet to combat climate change and world hunger.
Sponsors unlimited classes in yoga & arts for 1 young adult
PEACE CAMP
It's a platform where organizations, artists and beneficiaries can meet and share experiences, methodologies, best practices to build PEACE. It's a place enabling to create a comprehensive leadership program for Khmer youth, using yoga, meditation, the arts and techniques of non-violent communication, with the goal of tackling contemporary social issues in constructive ways and not repeating the cycles of violence of past generations. Peace Camp is organized yearly with a different theme related to pece building. This year, the theme was Volunteerism, Environmental issues and Inner Peace.
PEACE PROGRAM
AZAHAR Foundation organizes a Peace Curriculum in Phnom Penh that is geared towards young people between 16 to 25 years of age. AZAHAR Foundation proposes that this Inner Peace can be reached through the practices of Yoga and Meditation, coupled with creative arts, and supported by specific methodologies of non-violent communication, conflict resolution and youth leadership. Its objective is to awaken interest in a specialization of any of the subjects offered, with the goal for participants to become effective leaders and peacekeepers in their respective communities. The main subjects are Non-Violent Communication, Leadership, Women's Empowerment, Art Therapy (Dance, Poetry, Circus, Bokator) and Yoga / Meditation.
TIER 3: PROFESSIONAL TRAINING
SCHOLARSHIP FUND
In partnership with Jivamukti Global, AZAHAR has co-sponsored 1 teacher from Colombia, two from Lebanon, three from Cambodia, one from Rwanda, one from Ivory Coast and one from Syria for participation in the international 300-hour Jivamukti Teacher Training. Thus, they are given an international accreditation that elevates their standard and the standard of the people they teach. They have the privilege to become a part of an international community, and no longer feel so alone in what they are pioneering in their own countries.
AZAHAR Foundation provides employment for some young people who have graduated from its professional training programs as yoga teachers, artists or workshop leaders at our centers and through a broadening network of schools, NGOs and companies.
The yoga practices work on releasing tension and traumas that are lodged in the body, unknowingly. They boost the immune system through exercising the body and giving it more suppleness, strength and radiance, thus elevating one's self-esteem. Yoga works deeply on the organs, the endocrine system and increase cardio-vascular health and lung capacity. The effects on the parasympathetic nervous system allow for relaxation, and the release of dopamine positively affects mental and emotional states.
The meditation practice allows for the awareness of mental and emotional tendencies and for non-reactiveness to these impulses. It is designed to build a more peaceful, more compassionate and more noble human being.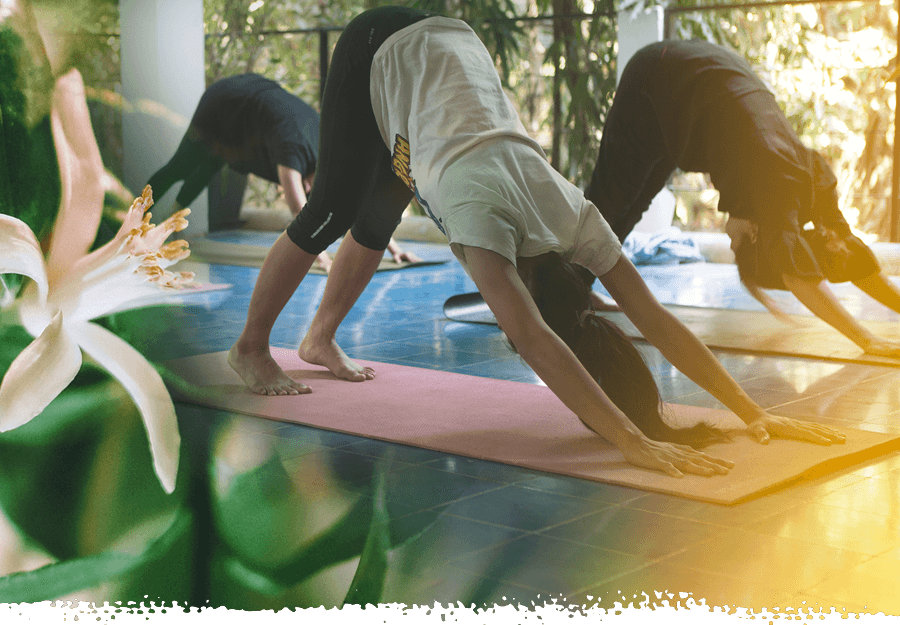 Arts are a product of creativity. A person who deeply engages with the creative process is less likely to involve themselves with destructive behavior. The arts are an appreciation of beauty, which helps to elevate the bleakness of the effects of poverty, war and violence. Most importantly, the arts are an expression of cultural identity, much of which has been destroyed by colonization, war and genocide (e.g. in Cambodia most artists were executed under the Khmer Rouge). Reawakening traditional cultural, as well as spiritual traditions greatly contributes to the reconstruction of a culture or a nation.
AZAHAR currently operates two Centers for Peace, Yoga & Arts in Cambodia, one in the capital Phnom Penh City, the other in Siem Reap, the city adjacent to the temples of Angkor Vat.
The Center in Phnom Penh is gradually moving towards becoming a social business, and the goal is to eventually make both centers self-sustaining.
In normal times, there is a regular schedule of classes in yoga, meditation, Bokator (an ancient Cambodian martial art), dance, poetry and drawing). Due to COVID-19, most classes have been either cancelled or are on-line. Since August 1, some classes are being taught live again, with recommended restrictions. For an updated schedule, please click here.
MAHOB BUOS, VEGAN RESTAURANT/ CANTEEN
The French organization Restaurants Sans Frontières awarded AZAHAR Foundation a grant for opening a vegan café that would be open to the public, but also aimed to provide nutritious vegan meals to disadvantaged youth participating in AZAHAR projects. Our Program Director and chef, Liva Sin, has created a very versatile menu of delicious, traditional Cambodian dishes made vegan. The restaurant is called Mahob Buos and is the first vegan restaurant offering Cambodian cuisine in the country. Vegetarianism, and even more so veganism, has been a compulsory diet and practice for yoga practitioners since the beginning of time and an important component to peace building. A global movement towards vegetarianism/veganism is essential in combating climate change and world hunger.
The restaurant is currently closed, due to the COVID-19 pandemic, but AZAHAR is currently trying to raise funds to open the kitchen for young people suffering from the economic devastation in the country, especially in Siem Reap.