How AZAHAR makes a difference in the world
Within any population we teach, young leaders are identified and supported with professional training to become positive models of change within their communities. Through the conflict resolution and peace-building techniques of Yoga and the Arts, the escalating cycle of violence in conflict and post-conflict settings can be broken and recovery and rehabilitation can begin.
Yoga, meditation and the arts helps people to heal from trauma caused by violent conflict or transgenerational trauma.
Young people plunged into poverty as a result of violent conflict are given access to possibilities they ignored or that did not seem available to them.
They receive an education that is founded in strong ethical values, and that promotes physical and mental health, self-confidence.
They can learn a profession that is dignified and that they love, instead of having to work in a garment factory or prostituting themselves.
In the peace village, conscious effort will be made to humanize and find common ground with designated enemies.
Yoga and meditation help people to release tension and traumas that are lodged in the body, unknowingly. They boost the immune system through exercising the body and giving it more suppleness, strength and radiance, thus elevating one's self-esteem. Yoga works deeply on the organs, the endocrine system and increases cardio-vascular health and lung capacity. The effects on the parasympathetic nervous system allow for relaxation, and the release of dopamine positively affects mental and emotional states.
The meditation practice allows for the awareness of mental and emotional tendencies and for non-reactiveness to these impulses. The strong ethical values of yoga  are designed to build a more peaceful, more compassionate and more noble human being.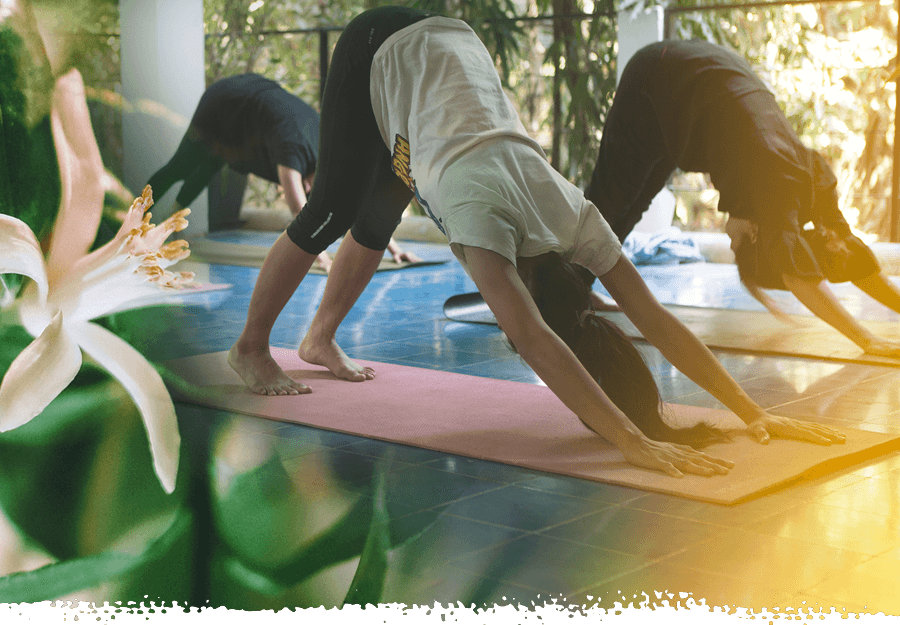 Arts are the result of a creative process. A person who deeply engages with their creativity is less likely to involve themselves with destructive behavior. The arts are an appreciation of beauty, which helps to elevate oneself from the ruins of poverty, war and violence. Most importantly, the arts are an expression of cultural identity, much of which has been destroyed by colonization, war and genocide. Both in Cambodia and Rwanda artists were among the first to be executed.  Reawakening traditional cultural, as well as spiritual traditions greatly contributes to the healing, grounding and reconstruction of a culture or a nation.
FREE FOOD & YOGA/ARTS FOR CHILDREN AND YOUNG ADULTS
Exposes young people to different disciplines, so they can awaken hidden talents and be shown pathways towards vocational development in these fields.
Since most young people from underserved communities will only be motivated to join programs when free food is involved, providing them with both is crucial.
The meals are vegan, as this is the most compassionate diet, a yogic diet and the most effective diet to combat climate change and world hunger.
PEACE CAMP
The goal is to tackle contemporary social issues in constructive ways.
Using yoga, meditation, the arts, and techniques of non-violent communication.

We offer a retreat where organizations, artists and beneficiaries can meet and share experiences, methodologies, and best practices to build PEACE.

A place enabling to create a comprehensive leadership program for Khmer youth.
PEACE CURRICULUM
The Peace Curriculum in Phnom Penh is geared towards young people between 16 and 25 years of age who want to deepen the experiences from the Peace Camp
Its objective is to awaken hidden talent in any of the subjects offered, and to provide pathways to professional training.
The goal is for participants to become effective leaders and peacekeepers in their respective communities.

The main subjects are Non-Violent Communication, Leadership, Women's Empowerment, Art Therapy (Dance, Poetry, Circus, Bokator) and Yoga / Meditation.
TIER 3: PROFESSIONAL TRAINING
LOCAL PROGRAMS
AZAHAR Foundation has provided two local yoga teacher trainings in Cambodia. Outstanding and committed participants are then invited to teach at the AZAHAR Centers.
The goal is to build towards an accredited school that specializes in yoga, meditation, arts & peace building in partnership with local and international schools and universities.
INTERNATIONAL SCHOLARSHIP FUND AND CULTURAL EXCHANGE PROGRAMS 
In partnership with Jivamukti Global, AZAHAR has co-sponsored yoga teachers from Colombia, Lebanon, Cambodia, Rwanda, Ivory Coast and Syria for participation in the international 300-hour Jivamukti Teacher Training.
Thus, they are given an international accreditation that elevates their standard and the standard of the people they teach.
Our scholarship fund is to be expanded and diversified across the disciplines AZAHAR offers.
.
AZAHAR Foundation provides employment for some young people who have graduated from its professional training programs as yoga teachers, artists or workshop leaders at our centers and through a broadening network of schools, NGOs and companies.